June 29, 2020
Peppermints !
Our second largest selling confection after licorice is peppermints. Besides some of the Wilhelmina items pictured here we have many more kinds of Peppermints.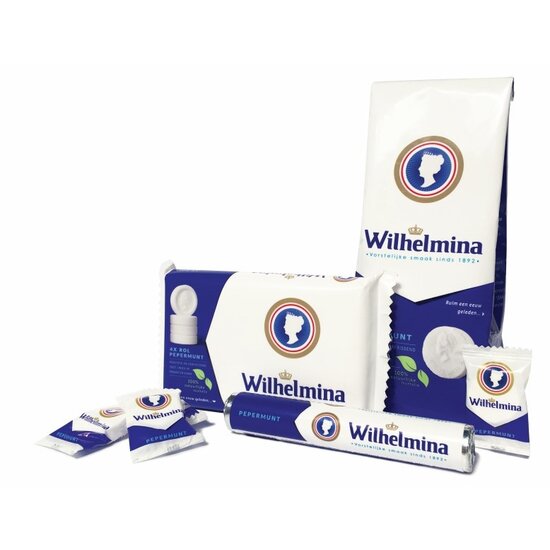 We sell a lot of candy. To be more specific than just candy – licorice, peppermints, hard candy, chocolate, and taffy. For those of you who know our store (Peters Gourmet Market) you can form your own impression and my guess Licorice would be your impression of which type of candy we sell the most of. You are correct however, peppermints are a close second.
Today let's focus on Peppermints also known as church candy. The two biggies are King and Wilhelmina"peppermunt" as it is spelled in The Netherlands. King mints were first produced in 1902 but not officially branded as King until 1922. They were originally made by the DeVries Family in Sneek Holland. King mints are now owned by Cloetta which is a multi national confection company with 13 factories in 6 different countries. King is best known for its roll presentation although there are some other textures and packaging available.
Wilhelmina mints are Made in Dokkum. Interesting that both these Dutch iconic brands hail from the northern province of Friesland. Wilhelmina mints were created in 1892 by the company Fortuin as homage to the Dutch Princess Wilhelmina who was 12 years old at the time. Her portrait can be found on each mint tablet. The Royal family was so impressed by the mint that they granted Fortuin the predicate Warrant Holder of the Dutch Royal Family which Fortuin still owns to this day. Wilhelmina mints come in a variety of packages and several sizes. From rolls to tins, from purse boxes to 6.6 lb boxes. Yes there are consumers who love this product so much, they buy it 6.6 lbs at a time or 36 count boxes of rolls!
We also sell other mints.  We have Mentos in every flavor available.  Canada mints also known as pink peppermints.  After a year long absence they are back in peppermint (white) and wintergreen (pink). 
My favorite time for a peppermint is late morning and I am getting a little hungry – a sugary tasty King Peppermint or two gets me to lunch! So when your supply of mints is running low – remember we've got you covered.
Ed
Peters Gourmet Market