February 12, 2022
Hagelslag
Dutch People consume over 14 million kilos of Hagelslag each year!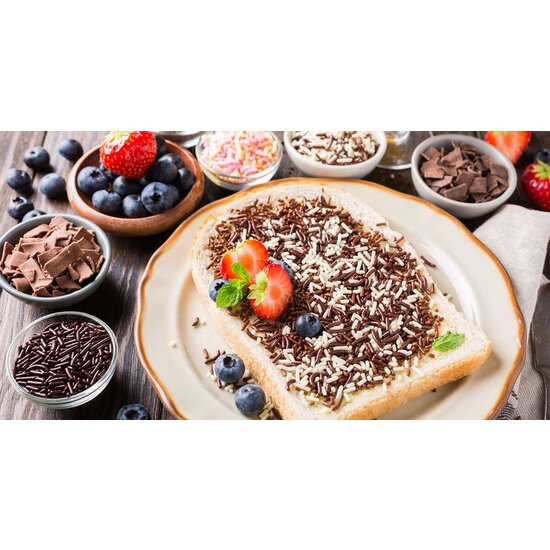 Hagelslag
Dutch chocolate sprinkles, or hagelslag, is a treat that originated in the Netherlands where those deliciously sweet sprinkles that are available in a wide variety of tempting colors and flavors. Hagelslag is not only a hit with Dutch children, it's extremely popular with grown-ups too. Hagelslag is typically sprinkled on buttered bread so that the sprinkles don't fall off. The publishers of Stuff Dutch People Like report:
"Dutch people are said to consume over 14 million kilos of hagelslag each year. Yes — 14 million kilos — do you know what that means? That's roughly the combined weight of 1,000 adult elephants!"
Dutch people large and small seemingly cannot survive without a daily helping of Dutch chocolate sprinkles and many won't even contemplate leaving the country without a box of their preferred variety crammed into their suitcase! But what exactly is hagelslag and what makes it so quintessentially Dutch?
The History of Hagelslag
According to Amsterdam City Archives, the very first hagelslag originated in 1919, after the director of the Venco licorice factory came up with idea of producing brittle white aniseed flavored sprinkles during a particularly inclement spell of autumn weather. He named the product 'hagelslag' (or 'hail storm' in English) and began delivering it to bakeries and grocery stores up and down the country, where it literally flew off the shelves.
Dutch chocolate hagelslag was invented in 1936 by Gerard de Vries for Venz, a Dutch company that gained popularity because of this invention. After much research and venture, de Vries and Venz created the first machine to produce the tiny cylindrical treats. Only hagelslag with a cacao percentage of more than 32% can bear the name chocoladehagelslag (chocolate sprinkles). If the percentage is under the 32%, it has to be called cacaofantasie or cacaofantasiehagelslag (cacao fantasy sprinkles).
In 1938 De Ruijter also expanded their hagelslag product range to include geboortemuisjes (literally translated to 'birth mice'). Their first birth mice were originally called 'Oranje muisjes' or Orange Baby and presented in a large tin to Princess Juliana and Prince Bernhard to celebrate the arrival of their baby daughter, Princess Beatrix. Photographs and films captured the proud royal parents enjoying beschuit (rusk-like biscuits) topped generously with Oranje muisjes and a brand new Dutch tradition was born.
Hagelslag Abroad
Many Dutch expats have started businesses selling uniquely Dutch products like hagelslag including the founders of Peters Gourmet Market.  We import and sell thousands of boxes of Dutch chocolate sprinkles every year. We offer Milk  Sprinkles(melk), Dark Sprinkles(puur) and Extra Dark Sprinkles, Milk and Dark Vlokken (curls/shavings) and Fruit Hagel.  Hagelslag has many names including "muisjes" in Dutch.  English translations include "sprinkles", Hail", and "jimmies".  They can be found on our web site under the category Pantry/Spreads.  Hagelslag is great on Dutch Rusk (Beschuit), bread, english muffins, bagels, and toast.  Also for decorating cakes and cupcakes.